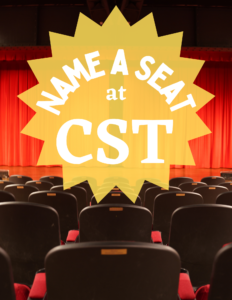 Arts Council of the Valley is re-launching the Name A Seat Campaign to support the arts in our area, especially at Court Square Theater! Now is your opportunity to help ACV and CST achieve their goal, to continue bringing high quality live and cinematic entertainment to the Shenandoah Valley!
Since the reveal of CST's new seats, after the Save A Seat campaign successfully ran from 2015 – 2018, almost 40% of the seats have been named. Immortalize your business, pay respects to a loved one, honor your favorite local actor, or a name gone by in the heart of Harrisonburg.
Your gift of $500 puts your name, or that of a person/place you wish to celebrate, on a handsome golden nameplate, engraved in black, and fastened on the back of a seat at the theater. All contributions will be invested directly into ACV's Court Square Theater programs.
PLAQUE GUIDELINES:
Each plaque can fit 1-3 lines of text
Font size will be determined by amount of text and ranges from small to x-large
No logos or artwork, only text!
Can fit 25 characters/spaces per line
Make your gift now, or mail a check including the inscription you want engraved.
Please call or visit the Smith House (311 South Main Street; 433-9189) to talk to an ACV staff member
and find which seats are available to you!
Please note: After filling out your contact information on the attached form, scroll down to "How Would You Like to Give?" and answer the "Where Would You Like Your Gift to Be Used?" question with the "CST Name a Seat ($500)" option in the drop down. An ACV staff member will contact you about your inscription and seat preferences. 
Arts Council of the Valley is a not-for-profit 501(c)3 organization. A portion of your contribution may be tax deductible.
Please contact our office at director@valleyarts.org or 540.801.8779 if you have any questions!