Spectator Bird & Dogwood Tales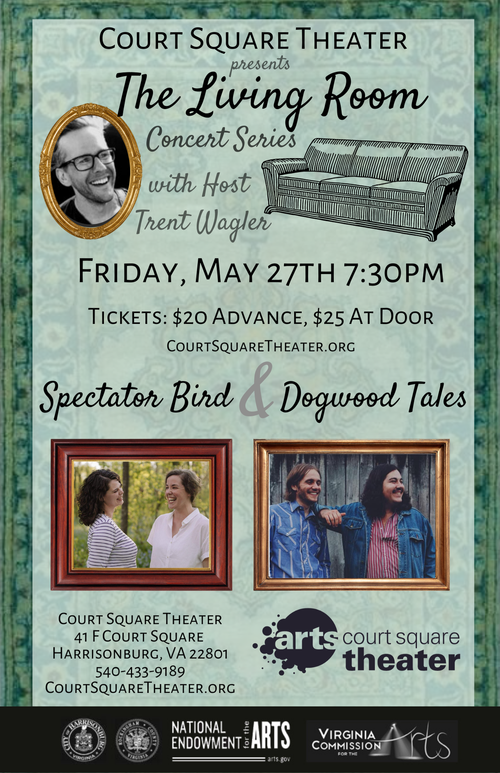 The Living Room Concert Series,
part concert, part live interview,
the night will be hosted by
Steel Wheels Frontman, Trent Wagler.
Spectator Bird
"Sisters, Rachel and Lindsey FitzGerald, make their home in the mountains of Virginia, where they also host the Spring Creek Supper Series, a celebration of community and music. Together they've hewn out a sound that is at once honest and elegant, sincere and captivating. Weaving sibling harmonies with award winning songwriting to produce a tapestry of sound as ancient and ambient as the hollows themselves." (Heather Hannah)
Dogwood Tales
Benjamin Ryan and Kyle Grim are the duo behind Dogwood Tales. They began playing together in high school and became friends playing in pop-punk bands in bordering towns. Naturally they cultivated a more roots oriented pallet, echoing the classic sounds of their home in the Valley. The Tales' songs have a spiritual aspect that derives more from the Blue Ridge Mountains than the Church. Their lyricism grows out of a serious commitment to literature and specifically the Southern-Gothic canon. Too Hard To Tell carries the weighted stories and one-liners often found in the songs of American folk music with a special attention to tone and emotion. The songs speak of scenarios and heavy stations of life and death in small town America. There is a different aspect of time that exists in these places, a slowness yes, but also an immediate and daily reality of birth, life and death. Dogwood Tales have captured something akin to a lightning-bug in a mason jar on this ethereal and rich debut effort.
SPONSORED BY:
Thanks to James McHone Jewelry,
Comfy Couch Sponsor,
and
The Harrisonburg Homes Team,
End Table Enthusiast Sponsor
SHOWTIME
Fri (5/27) Doors open at 7:00
Performance starts at 7:30
TICKETS
$20.00 Advanced
$25.00 At Door