Nothin' Fancy Holiday Show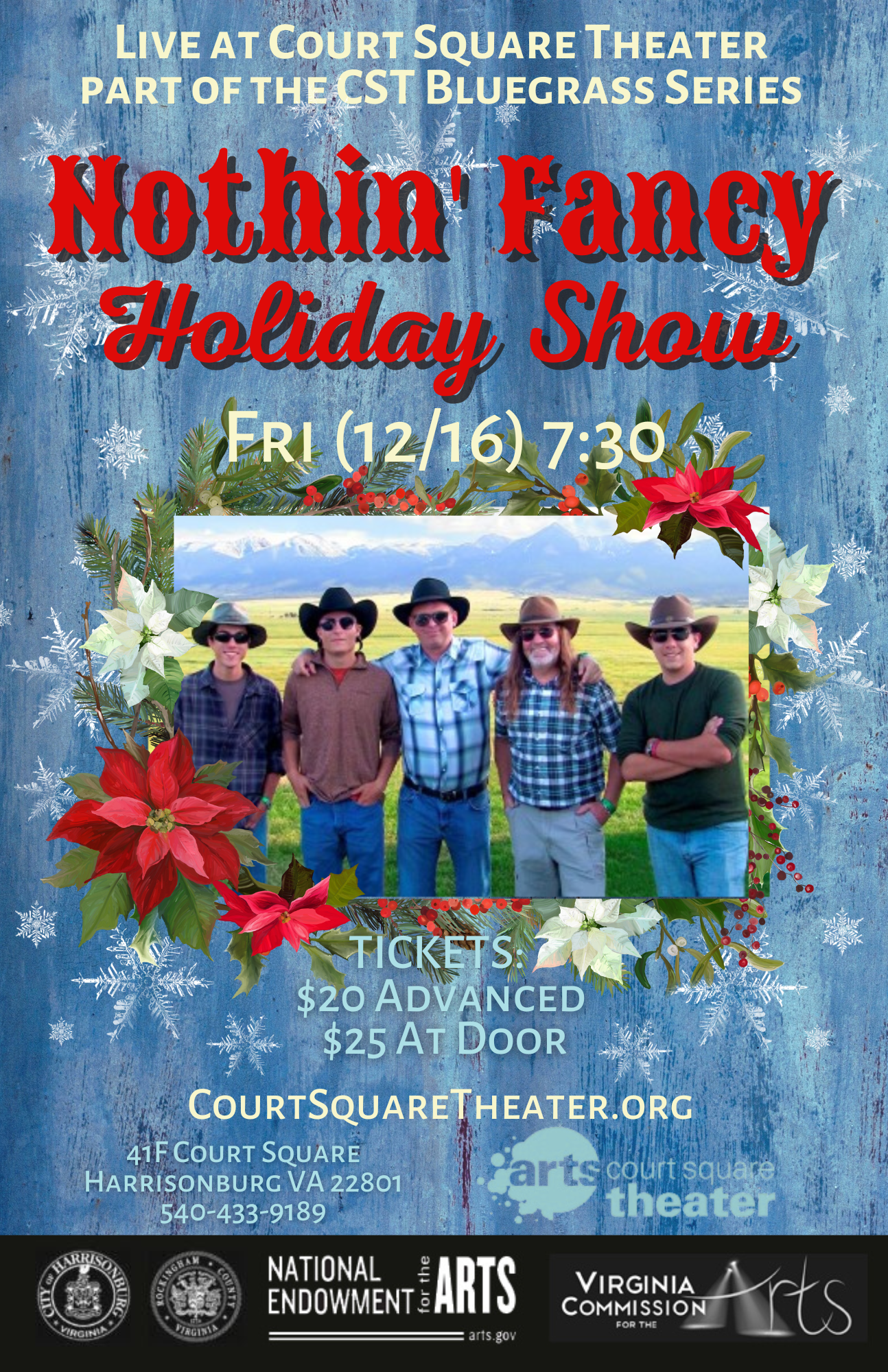 SHOWTIME
Fri (12/16/2022) Doors open at 7:00
Performance starts at 7:30
TICKETS
$20.00 Advanced

$25.00 At Door
Locally based bluegrass band, Nothin' Fancy, is comprised of
Frontman Mike Andes on mandolin,
Chris Sexton on fiddle,
Jacob Flick on banjo,
James Cox on bass,
and Jacobe "Jake" Lauzon on guitar & vocals.
Nothin' Fancy is not just carrying on the tradition of bluegrass music; they are contributing to the creation of a new tradition within the acoustic music genre. Strong vocals, powerful instrumentation, and energetic stage presence, along with friendly down-to-earth charm keeps people coming back for more.
Nothin' Fancy formed as a bluegrass band in 1994 to compete in a bluegrass competition. Since then, they have grown in popularity, released 11 full length albums, and continue to perform at festivals across the United States and in international engagements. Their audiences have gathered at notable venues such as the Ryman Auditorium in Nashville, TN; the Lincoln Center in New York City; and the Birchmere in Alexandria, VA. They have been seen at Dollywood, and are a regular fixture at Silver Dollar City in Branson, MO where promoter/coordinator D.A. Callaway described Nothin' Fancy as "the act that America needs to see." They have successfully hosted their own Nothin' Fancy Bluegrass Festival every year since 2001 in Buena Vista, VA on the fourth weekend of September. The festival has become a notable event for the Shenandoah Valley bluegrass scene and attracts acclaimed bluegrass bands and bluegrass music lovers from many corners of the U.S., Canada, and even overseas. The band is known for their smooth vocal blends, stirring performances, irrepressible humor, and for traveling the highways in their beloved bright yellow tour bus.
Their two-decade career has earned them a dedicated fan base, six Society for the Preservation of Bluegrass Music in America (SPBGMA) Entertainers of the Year awards, honorary Mountaineer status by order of former WV Governor Joe Manchin III, and certificates of appreciation from several VA towns, and even had the Buena Vista mayor declare it as "Nothin' Fancy Day" at one of their festivals. On April 10, 2015, the all-male music fraternity Phi Mu Alpha Sinfonia inducted four members of Nothin' Fancy into honorary brotherhood through the chapter at James Madison University (the fifth, Chris Sexton, joined Phi Mu Alpha in 1995 at Shenandoah University's chapter). The band was also inducted as the 2015 members of the Virginia Country Music Hall of Fame, an honor given once a year to Virginia's most notable country and bluegrass musicians on October 10 of that year.