Nate Williams + Justin Golden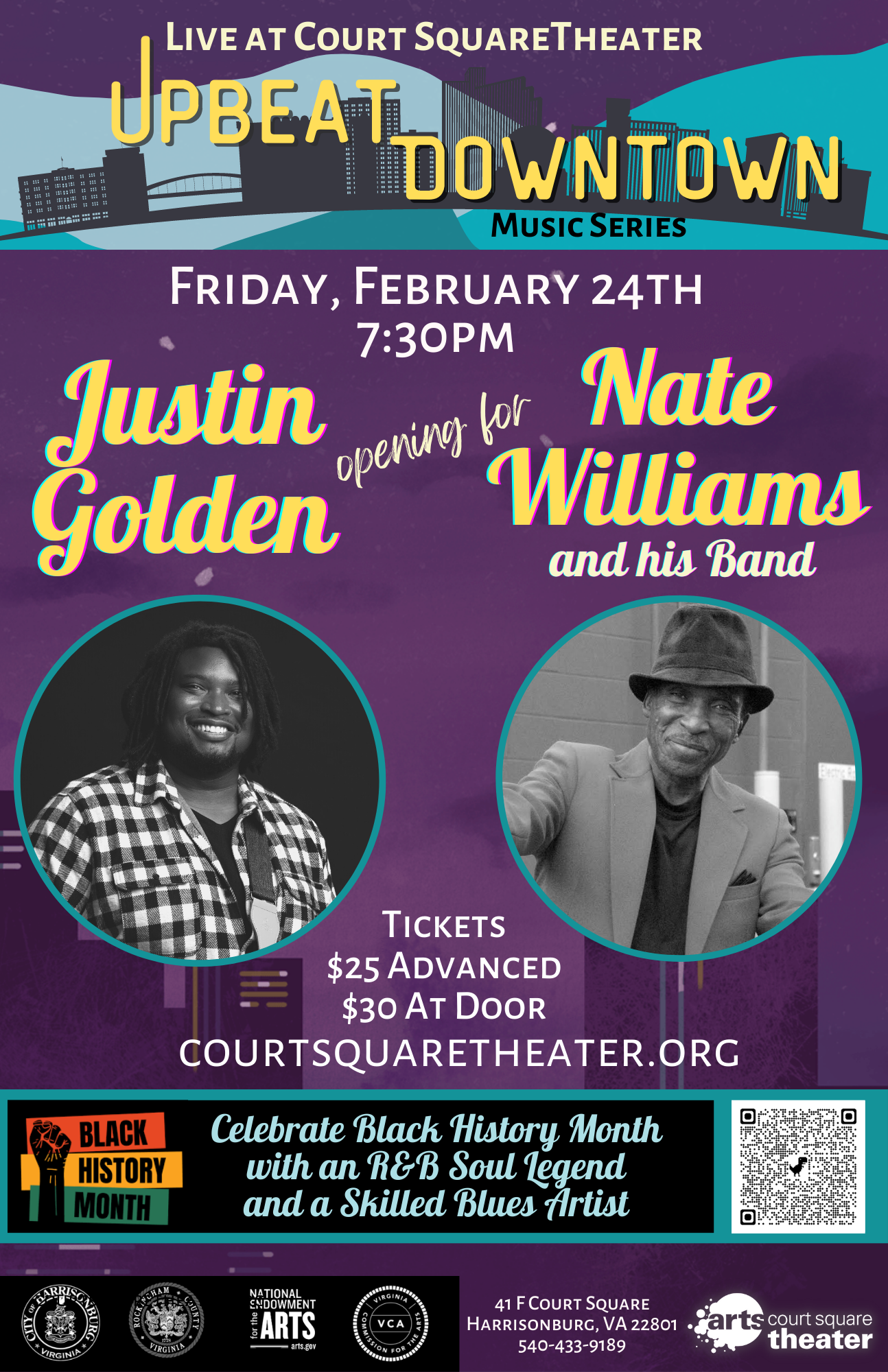 SHOWTIME
Fri (2/24) 7:30
TICKETS
$25.00 Advanced
$30.00 At Door
Celebrate Black History Month with
R&B Soul Legend Nate Williams and Bluesman Justin Golden
for a night of Upbeat music in Downtown Harrisonburg.
Nate Williams has been writing and producing his own R&B and Soul music since 1973. His first songs,"She's A Woman" and "You Doing Wrong" were on the Pick Hit of the Week and are in the archives in D.C. In 1980 under NJ International Record label, his "Offer You Can't Refuse" and "Mugged by Love" were popular on main stream radio all over the world. Williams formed his own music label, PK Special Records, and publshed with BMI in 1986. With Ruby Williams, his song "Rocking and Reeling" also made the charts. His last CD, "Ride With Me," released in 2010 remains popular right now. He recorded "It Ain't Right" on media as an independent, and wrote new material such as "She Got You," and "Change" under Smooth Groove Soul. Williams continues to create music and his songs are popular on all media streaming channels like Pandora, Amazon, Apple and many others.
Justin Golden, Richmond-based guitarist and songwriter, has roots in the Mississippi Delta, Chicago, and the Piedmont of Virginia; origins deeply vested in the blues. First picking up the guitar at age 19, Golden did what came naturally and let the music flow through him. With an extremely diverse musical palette, Golden aims to bring some new ideas to traditional blues forms. In addition to his work as a recording and performing artist, Golden maintains a busy teaching schedule and works with the non-profit The Rhapsody Project to provide community enrichment through anti-racist cultural heritage programs.