SHOWTIME
Sat (10/28) 7:30
Doors open at 7:00
TICKETS
$40.00 Advanced
$50.00 At Door
WINNING CATEGORIES:
Best in Show
 Overall Performance (1st Prize)
WINS $500 plus prizes
People's Choice Award
Audience Voting (2nd Prize)
WINS $250 plus prizes
Comic Genius
 Originality (Runner-Up)
WINS $100 plus prizes
Show Stopper
Stage Presence (Runner-Up)
WINS $100 plus prizes
VOTE for the People's Choice Award
$1.00 per vote
Voting is unlimited, so vote for your favorite Comic often!
Online voting will be open until 7:00pm on October 28th. Audience Voting will continue in person during Laugh for the Arts until the final tally is taken at the end of the night.
Proceeds benefit Court Square Theater, a program of Arts Council of the Valley (ACV), a 501(c)3 nonprofit dedicated to cultivating the arts, creating
experiences, and connecting communities throughout the City of Harrisonburg and Rockingham County.
Garrett Brumfield
Garrett Brumfield is rollin' in from Roanoke, VA with nearly a decade of experience as a disability advocate and motivational speaker.
Heather Joyce
Heather has been doing standup since 2019 after moving back to Virginia from LA — Lower Alabama. Exploring topics from the mundane to the nerdy to the just plain weird, her jokes have been described as "adorable," "clever," and "What just happened?"
Dawn Mast
Dawn. her doctor husband of 31 years, and their 4 children have taken many family vacations and medical mission trips which have been a comedy gold mine. A writer and speaker for Encouragement Cafè ministries, if she had spare time she'd take a nap. Or two. 
Travis Valle
Travis is originally from Northern VA, now living in Harrisonburg. He served in the Marine Corps for five years and started doing comedy upon his return to the DC area in 2015. After attending James Madison University, he stayed in Harrisonburg and currently hosts a monthly comedy open mic. Travis has a dark sense of humor but lightens up when talking about performing both music and comedy.
Chris Cabral
A California native, currently living in Elkton, Chris has done live shows with X2 Comedy here in the Shenandoah Valley, to Open Mics in Florida, North Carolina and here in Virginia.
Colby Knight
A Charlottesville-based comic, Colby has performed at the Richmond Funnybone, Sandman Comedy Club, and showcases all over the state. Whether he's joking about Hallmark movies, traumatic experiences at a fish hatchery, or being a self-proclaimed "white people sommelier."
Tayte Myers
A Nebraska transplant, Tayte moved to the Shenandoah Valley in 2021, and attended his first open mic in Harrisonburg in late 2022 after starting a remote job. Since then, he's become a regular attendee at all the open mics in the the area. Stand up comedy is his favorite reason for getting out of the house!
Poppy Vest
Poppy Vest has been doing stand up comedy for about 3 years. It's a passion and he brings an awkwardly charming character to make you tilt your head back with a chuckle.
Jessica G.
Jessica G. performs throughout the DMV area, bringing her quirky, sarcastic take on being a single mom, dating and everything in between. Her clever style of writing brings authenticity and vulnerability to the stage, making her a very memorable comic.
Lightning Lucas
Lightning Lucas has been writing songs since 2008, and now has over 300 to his name. In 2022 he took an X2 Comedy Class and fell in love with combining standup comedy with funny songs in a style similar to Adam Sandler or Bo Burnham.
Keaton Ray
Keaton never thought he'd be the host of a monthly stand-up comedy showcase in Charlottesville, Virginia. He also never thought he'd find love, but now he has done both of these things!
Jay Zehr
Stand-up comedy is a new endeavor for this 40 year veteran of the Valley's performing arts scene. Jay's original plays have been produced at JMU, the Little Grill, and Court Square Theater. His sketch comedy has been performed live as well as on WMRA. Jay's Super GR8 films have won multiple awards.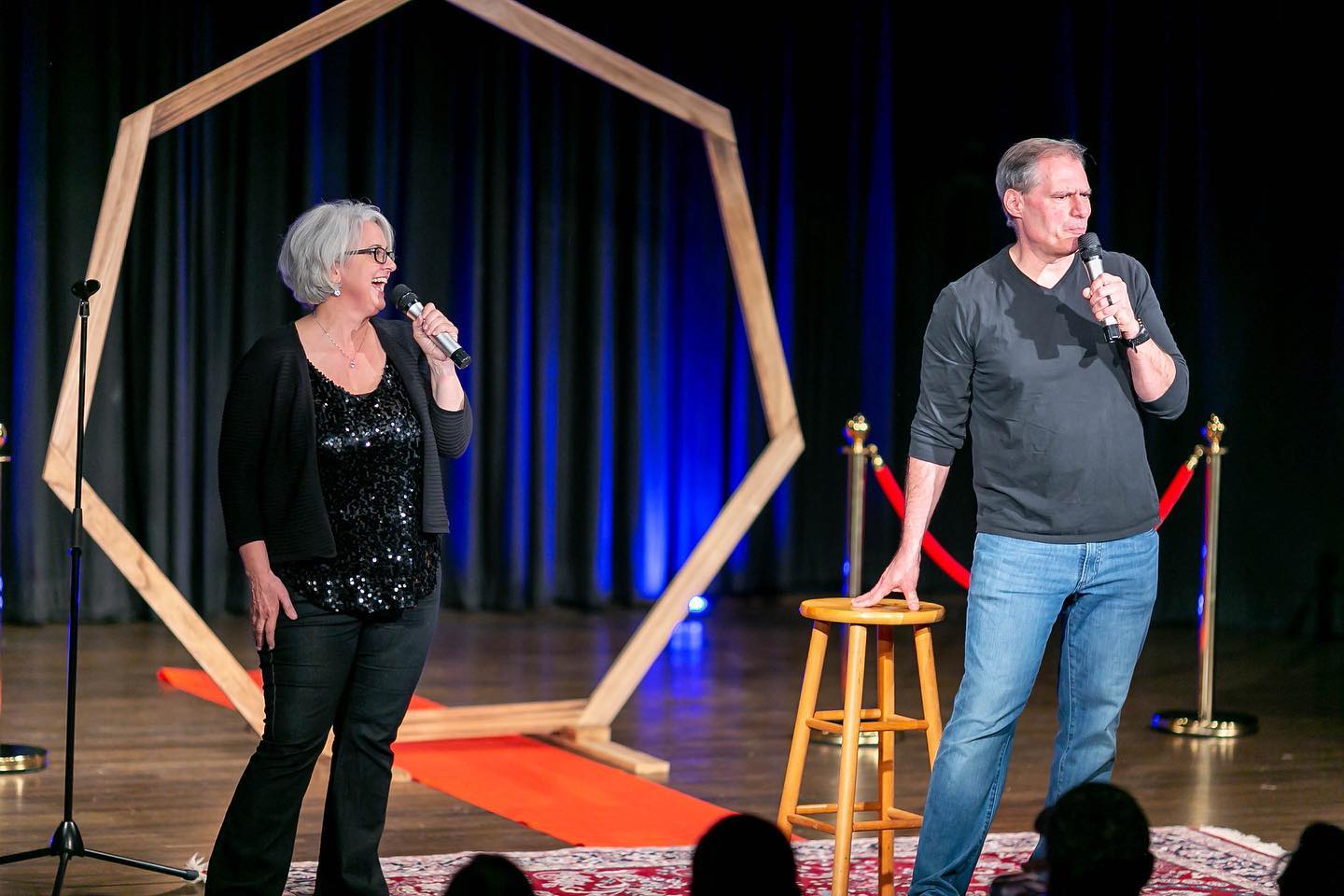 The Funny Womacks of X2 Comedy
Dawn Davis Womack began her professional entertainment career as a film actress and you may or may not have recently seen her in the Friendly City Fortune Mega Raffle commercial here locally;-) She started doing stand up to face her fears of doing it by taking comedy classes in Silver Spring, Maryland. She was hired from their graduation showcase and has been booking ever since. Dawn has performed from east to west coast and in 2022 opened for Lachlan Patterson in the first cave comedy shows at Melrose Caverns. She founded X2 Comedy, the Podcast Host of Virginia is For Laughers, a podcast about all things non-hiking in the Shenandoah Valley. She has a warm "we are family" vibe on and off stage where the topic of wine seems to come up a lot.
Chris Womack is a JMU professor who has been educating and entertaining students for 29 years in the classroom and has now taken his comedy off campus having performed several shows with X2 Comedy and others since 2021. In 2022, he hosted and performed in the first annual Cave Comedy Fest featuring X2 Comedy shows inside a cave! He won a comedy competition for a streaming 'Comedy Show' filmed in Maryland which X2 Comedy will formally announce when it's officially released online.