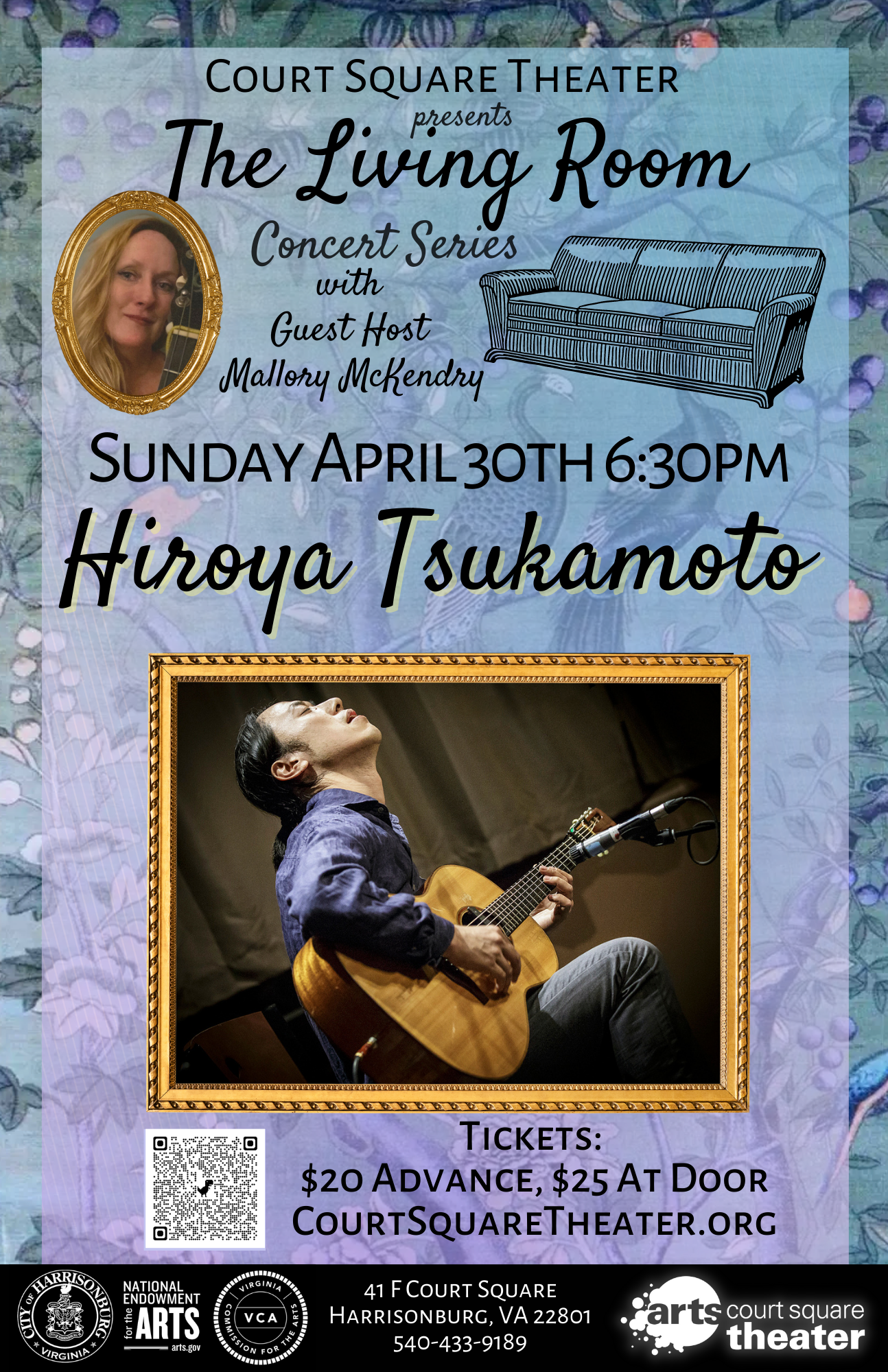 SHOWTIME
Sun (4/30) Doors open at 6:00
Performance starts at 6:30
TICKETS
$20.00 Advanced

$25.00 At Door
The Living Room Concert Series,
part concert, part live interview,
the night will be hosted by
Mallory McKendry of The Hot Mamas
About Hiroya Tsukamoto
Hiroya Tsukamoto is an innovative guitarist and composer who fuses folk, jazz, and world music. Born and raised in Japan, in 2000 he received a scholarship to Berklee College of music and came to the U.S.
Tsukamoto's instrumental abilities are indeed breathtaking and astounding, but his performances are so much more than that.  He has the unique capability of engaging an audience thru a personable and genuine approach that transfixes his audience and almost transcends his capabilities as a guitarist. Audience members will be mesmerized; Tsukamoto plays with an effortless skill on the guitar and a repertoire that will have you traveling the world, not to mention experiencing new sounds with his own compositions.
Tsukamoto headlines concerts throughout the U.S. as well as internationally including Blue Note in NYC, United Nations and Japanese National Television. Most recently Hiroya won 2nd place in International Finger Style Guitar Championship in 2022.
"Fingerpicking is delicate, fluid, and beautifully detailed" – Acoustic Guitar magazine

"HiroyaTsukamoto takes us to an impressionistic journey" – Boston Herald
About Mallory McKendry
Mountains, madness, magic and love are what Mallory McKendry knows and writes about. An award-winning singer/songwriter and recipient of Norfolk's Veer Magazine Best Americana Band Award with The Longfellow Street Music Collective in 2013, Mallory has always put pen to page.
She has traveled the world as a United States military musical ambassador and was a studio performer with the Hawaii Opera Theatre. Mallory was lucky enough to live in and play jazz with various bands, including The Whiskey Jackets, in both New Orleans and the Seattle area.
In 2021 she founded her solo project: My Gal Mal—Mallory McKendry and her One-Mal-Band, releasing a live EP in July 2022. Be sure to look for Mallory with her newest project The Hot Mamas (all-female singer-songwriter multi-instrumentalist collective) too! The Hot Mamas will be releasing their new record at Court Square Theatre on May 20, 2023.