Fright Night Double Feature spotlight on Jack Nicholson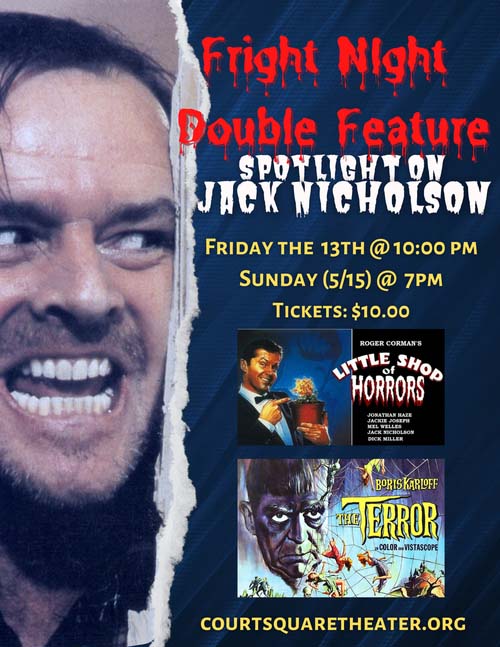 Experience the nostalgia of the late night double feature with cult-classic flicks.
April's Fright Night is a spotlight on a young Jack Nicholson.
"Little Shop of Horrors" (1960)
Shot in just two days, this beat-era favorite packs plenty of inspired lunacy. Seymour, the inept assistant florist, saves his job by nurturing a man-eating plant to health and drawing customers–and more than a little blood. As the chorus of "Feed me, FEED me!" coming from the talking plant reaches a crescendo, Seymour is forced to find more victims. Jack Nicholson's breakout moment comes in his comic turn as a masochistic dental patient who gets giddy over the prospect of having his teeth pulled!
Run Time: 1 Hour 12 minutes
"The Terror" (1963)
Filmmaker Roger Corman cobbled a script together for a new picture to star Boris Karloff, who owed him a few days work. Employing the same sets as "The Raven," and some of the same actors, this time bumping Jack Nicholson up to second lead, Corman, along with the help of his proteges Jack Hill, Francis Coppola, Monte Hellman and Nicholson, finished principal photography for the film in only four days. An intriguing plot of ghostly deception and dark secrets, in the tradition of Edgar Allan Poe, unveil in this impressive cult oddity.
Run Time: 1 Hour 21 minutes
TICKETS
$10.00