A Cappella Battle: An Upbeat Downtown Concert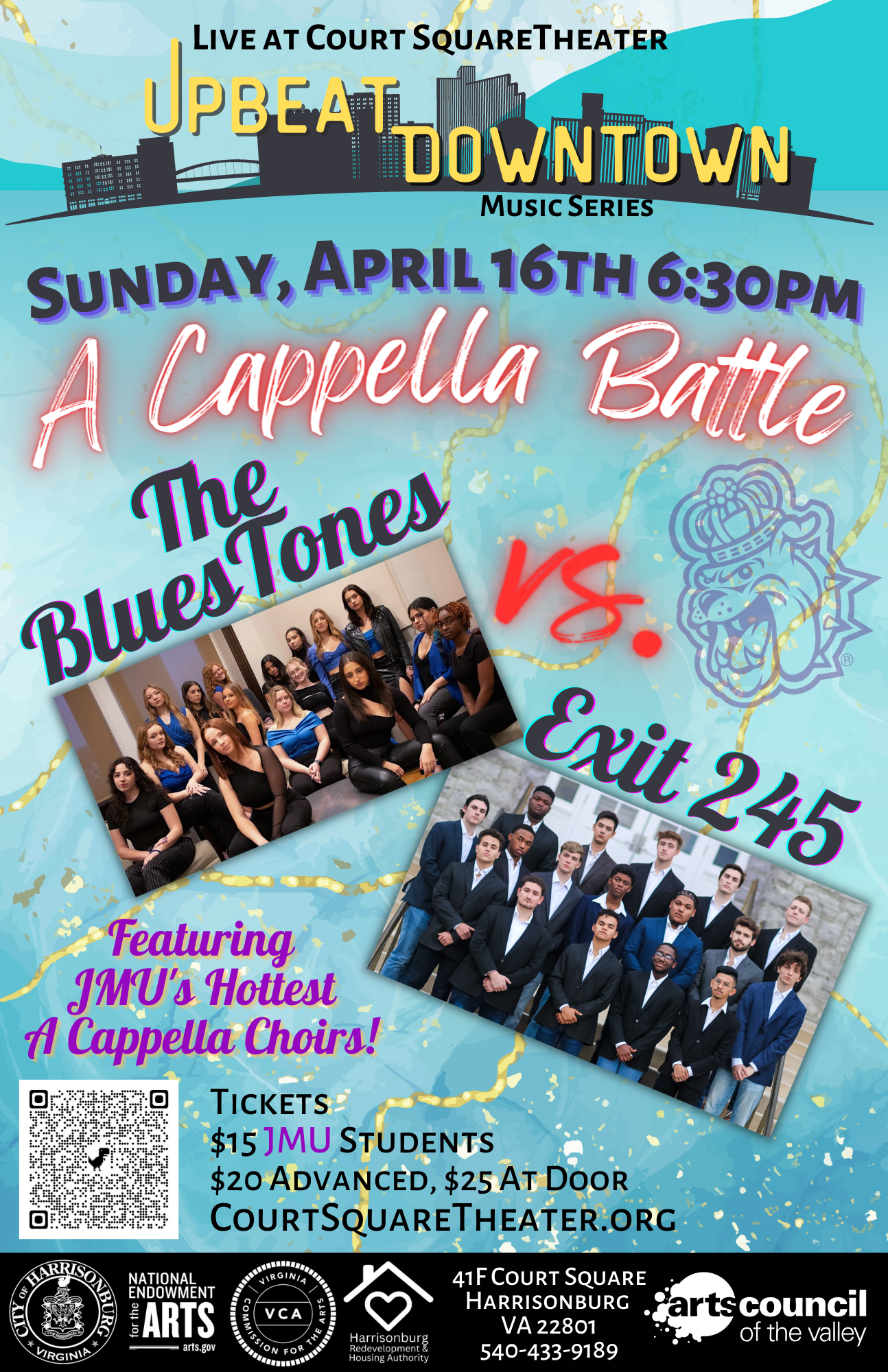 SHOWTIME
Sun (4/16) 6:30
Doors opening at 6:00pm
TICKETS
$20.00 Advanced
$25.00 At Door
$15.00 JMU Student
JMU's exceptional a cappella choirs return to CST for an A Cappella Battle!
Featuring The BluesTones and Exit 245,
this will be an Upbeat Downtown Concert like no other.
The BluesTones
The BluesTones are an award-winning upper voices a cappella group from James Madison University in Harrisonburg, VA, founded in February of '99. They have professionally recorded numerous albums on Spotify, Apple music and other streaming platforms. They recently just released their latest album Tears Dry this past December, so if you haven't yet, definitely give it a listen! For all updates please check out their instagram page @thejmubluestones.
​
Exit 245
In 1998, a group of gentlemen came together for a simple, singular purpose: perform renditions of popular tunes using nothing but their own mouths. These gentlemen chose the name Exit 245, representing the stop on I-81 that led to James Madison University.
Since the group's inception, the legacy of Exit 245 has grown, thanks in part to sold-out concerts up and down the East Coast, critically-acclaimed releases, and viral videos. Exit 245 is a regular fixture on compilations like Best of College A Cappella, Voices Only, and Sing. They have received numerous Contemporary A Cappella Recording Award nominations, including a win for Best Male Collegiate Album for their 2013 release, Boyfriend Material.
But more important than any of the achievements that group has accomplished over the years is the fellowship between the members. Each gentleman who joins the group enters a lasting brotherhood that transcends music. Beyond its core purpose of making music and sharing it with the world, Exit 245 seeks to serve as a fraternity of men that lasts well beyond college.